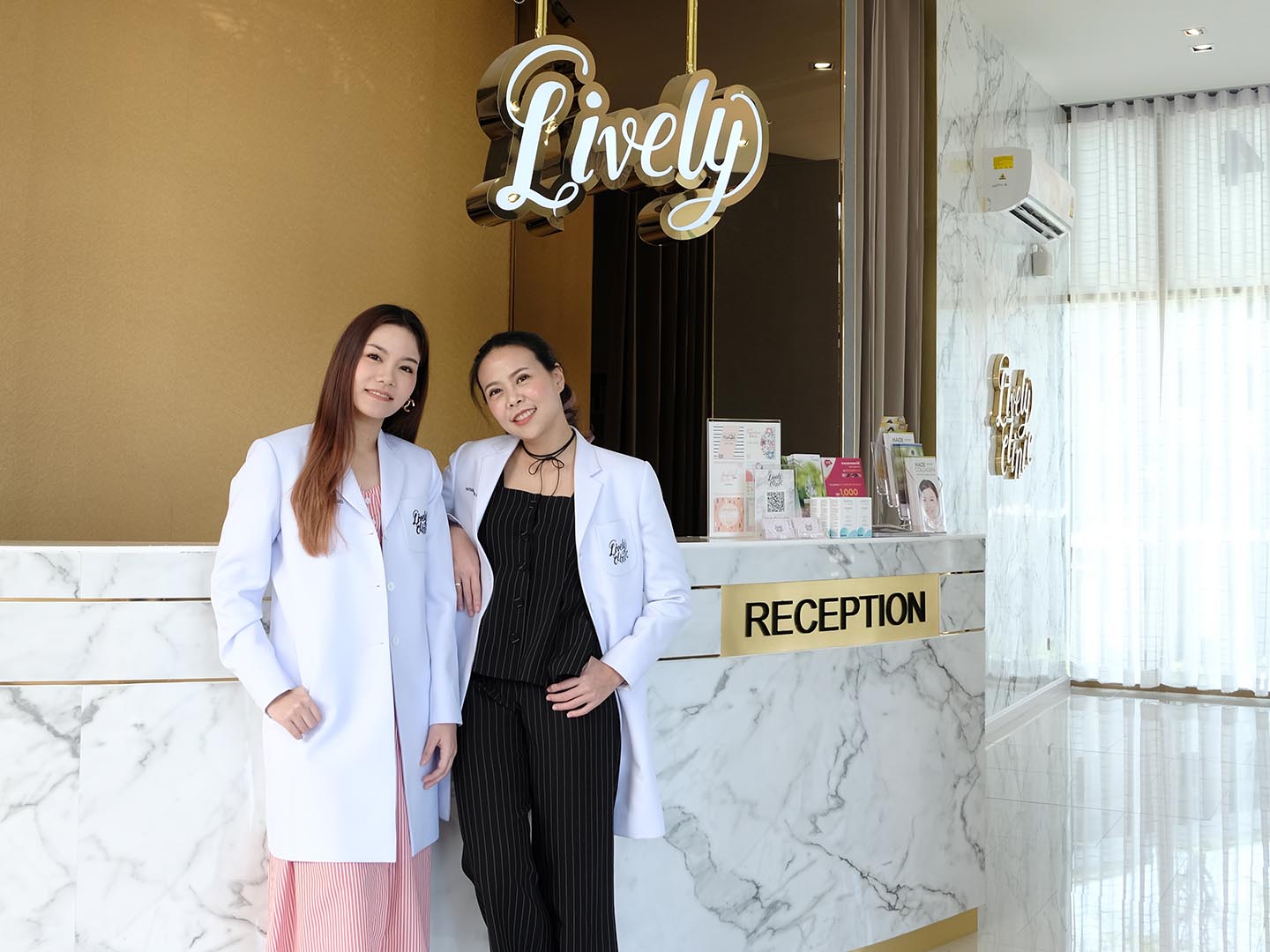 Lively Clinic is a beauty clinic managed
by a physician. Every case of medical tests itself.
Stay tuned for more promotions.
Facebook fanpage: Lively clinic
Instragram: @livelyclinic
Line id: @livelyclinic
Dr. Patsuda Chomchan, MD
CEO and Creative Director of LivelyClinic
B.Sc. (Medicine), Srinakarinwirote University
Master of Science in Dermatology School of Anti Aging Mae fah luang University
Clinical observership in Dermatology at Juntendo University, Tokyo, Japan 2015
Advanced medical education in Dermatology
Art and Science in Dermatology 2014, Mae Fah Luang University Hospital, Bangkok
4th ITCAM main congress and post-congress Cadever Course 2014
Certificate of completion of Restylane workshop 2014
Certificate of completion of TT thightening Barbed COG Suture workshop 2015
Expert trainer on Sutures of Silhouette Soft 2015
Certificate of attendance: Unlocking Emotional Beauty with Allergan Medical Institute
Dr. Kanyawit Chansakul, MD
Co-Founder
Ramathibodi Hospital, Mahidol University
Doctor of Medicine, Ramathibodihospital, Mahidol university
Mastery degree in Science in Dermatology, Ramathibodi hospital, Mahidol University
5th ITCAM Main Congress and Post-congress Cadaver Course 2015
Certification of Completion Restylane Workshop 2015
Certification of 4th Ramathibodi Training Course in Cosmetic Dermatology 2015 (Lecture and Live Demonstration)
Certificate of Practical Dermatology, Dermatological Society of Thailand
Certification of 5th Ramathibodi Training Course in Cosmetic Dermatology 2016 (Lecture and Live Demonstration)
At Lively Clinic, our doctors finish the skin directly. It can take care of all skin problems. We have experience in designing and adjusting the face. With specialized training from Korea.
Ensuring the quality of treatment, service and quality of medicines and products. Every step of the way, every medicine and product in the clinic. Your doctor has tried all kinds of doctors. When the doctor finds it good and safe, it applies to the patient.
Doctors to focus on the results. See the change to the beautiful patient handsome in their own style. At a fair price Easy access to BTS Phrom Phong and car parking.